Saying small businesses are capable of offering more than the big giant platforms is true in many respects.
First
When looking for products in most the large platform search engines, you are provided with an item that is in your price range that's the newest and best and promoted by them. This is neither good or bad however you really don't get to see what's available.
Second
The overhead costs and requirements put on sellers by the platforms is oppressive both financially and makes it difficult to provide new products.
Third
Those same micromanagement rules control everything. So much so that to comply we are not even able to provide all products to our consumers.
Fourth
This is the big one! As a business on your own platform, it is much more difficult to sell items or get traffic however you have hundreds of more tools available to you and the ability to share things within your site and listings far beyond any of the big platforms.
Website Tips
Here are the 10 most important things these experts say customers want to know and find on your website.
How your business is unique Answer the question "Who are you?" as interestingly and compellingly (and honestly) as possible. This includes writing management bios that mention your expertise, years of experience and any unique attributes or details that may set you apart from others.
A clear sense of what your company offers It's incredible how many sites you visit and you're not sure what the company offers, Make it a priority on your home page to provide at least general information about your products and/or services, with links to specifics on a Products page.
Contact information, including a phone number and physical location This, may seem like a no-brainer, but many companies are purposely vague about their location. Some prefer to do all of their business online and see no need to publish an address or phone number. Others are home-based or they worry that giving a street address or hometown will somehow hinder them. This is a must, and it's one small way of building credibility and trust with the consumer. A phone number, a street address and even pictures go a long way toward building credibility. Showing a physical location, even one that no one will ever visit, comforts a customer that your business is real and legitimate. Provide a phone number that maps to that location, rather than just an 800 number.
Third-party validation This means customer testimonials, client lists, case studies, awards and recognition you've received, positive news clippings and the like. Potential customers indeed want to know who you do business with, and what current customers have to say about their experiences. Such items forge the underpinnings of trust.
Client lists are especially important if your customers are businesses. If you've got some big-name customers, people like to see that, But make sure you get approval from those you list as clients.
Secure Socket Layer (SSL) SSL is an encryption system that helps protect the privacy of data exchanged between a customer and a website. If you have an e-commerce site that takes credit card information, customers want to know that their sensitive data is encrypted. Get SSL if you don't have it. If you do, let customers know that and about any other safeguards you proactively take.
Ease of use and navigation If people can't find it, they can't buy it. Please keep it crisp, clean, and easy to navigate," but also for site owners to study traffic and usage patterns to adjust their sites based on what visitors are coming for. The ability to search a site is very important. Businesses should study their search data to see if there are trends and what to make front and center.
Clear guidance on your processes Let customers know, step-by-step, important things such as how to order and where to go and what to do should something happen out of the ordinary. Customers also want to know your shipping costs and procedures and how they can get status reports. (Don't list your shipping costs and procedures after people enter their credit card information.) Last but not least, customers want to know how you handle complaints and problems, return procedures and whether they

have a money-back guarantee.

An ability to give feedback Encourage feedback about your products and services, your ordering process and your site in general, by providing a feedback mechanism–either feedback forms or e-mail links. Not every small business prefers to offer this, in some cases because of resource constraints.
Clear calls to action Customers want signs or buttons in order to act, be it Buy now or Sign up for our newsletter or Click here for more information. But many small-business sites don't provide calls to action or they don't present them clearly enough, This is one of the biggest thingsIf you have a captive audience, this is the time to grab them!
Special offers and personalization By personalizing a sale with a special offer, incentive or coupon, small businesses can gain an edge on their bigger counterparts. This can be as simple as a hand-written thank-you note, free gift wrap services or a special offer for repeat business. Having a personalized touch is something small businesses can do that many big businesses can't!
There are hundreds of different website building platforms and website builders around the market.
WordPress, Wix, Joomla, Drupal… Just to name a few.
You can also code your website from scratch, but I wouldn't recommend it on mainly two reasons:
It just takes too much time (seriously)
Your end result will be mediocre at it's best…
But which one should you choose?
Let's take a look at these recent statistics made by BuiltWith.
How People Build Websites in 2019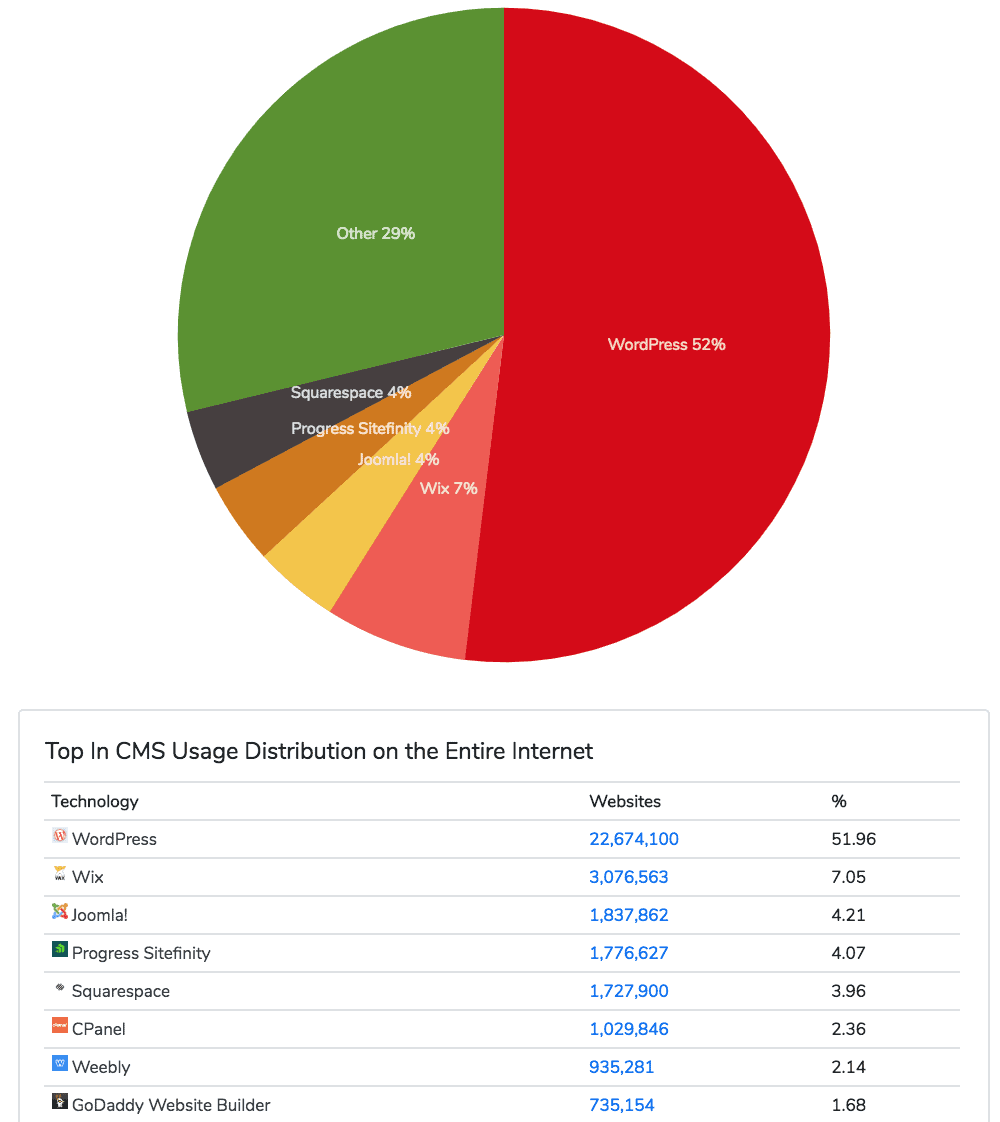 As you can see from the graph above, in 2019, the most popular website builders (or content management systems) are:
WordPress (free) 51%
Wix (paid) 7%
Joomla (free) 4%
Squarespace (paid) 4%
Weebly (paid) 2%
I am using Shopify, WordPress and Strikingly for my sites.
This is a mobile view of a few sections things I added to my site. Of course, I would love it if you would go to the site at Keywebco Shop
However, these images will show some of the site's items.
The play button shows a video in my basic header.
The green announcer bar at the top mentions Shipping
The black menu box is visible to locate and navigate throughout my store.
Then you see a slider, I will cover those at the end
This is a store so the first scroll is items that "match" my blogs mostly
I waste no time adding a large image of my podcasts where I have a sponsor, Flipboard.
Please note this is a summary the site is loaded with more
there are also single products visible on my site.
Near the bottom
YouTube slider with four videos about my shop
Partner network advertising. Basically, other items from other sellers appear at the bottom of my page and I select items from my store that automatically appear at the bottom of other sellers page it's a good way to get cross traffic.
This is the top of my foot hurt first you will notice simple social share buttons
Sign up and subscribe to our newsletter
I snuck a few extra links into one for the app that I created to go with my store.
The other link to goes to eCom Tips Podcasts
Links to the normal stuff like search etc..
Then accepted payment types
Now more cool stuff
The bar at the bottom you now do not see was my always visible search also you might have noticed the black menu box is always visible too.
Compare products
Facebook messenger.
OK here's when my advice and what I am actually doing at this very moment do not line-up. I need to provide a phone number. I don't ever answer my phone the only way to get a hold of me is on Facebook messenger I use Shopify Ping as well for IOS.
Notice the ability to share items. It pops up for me with the feature.
Big Issue With Websites
Are you wondering how to drive traffic to your online store?
Finding ways to encourage consumers to purchase from you, as opposed to well-established retailers, can be challenging, even when you have exactly what customers need when they need it.
In fact, according to the State of Inbound, generating traffic and leads is the leading challenge facing companies today.
eBay Store To Website Store For My Home Page Change
OMG It Gets Complicated Working Online
https://whazuptoday.com/promote-your-business-to-get-traffic-and-ranking/
Do Not Forget to add your domain To Your Business Websites. My Keywebco domain I just changed it's worth $1,740+ if I sold it now. It matters to Google is reason enough to get one lol
In this video, I will show you the complete marketing guide on how to market your website so you can get more traffic and visitors to your website! If you want to learn how to promote your website and get more visitors than this marketing tutorial is for you! First, we will start your SEO campaign for your website. SEO is how your website ranks higher on the search engine so people can find it.
This is the first thing you do after creating your website. This will results in increasing traffic for your website You can hire a freelancer here: http://www.darrelwilson.com/freelancer You can learn SEO With This Course Here: http://www.darrelwilson.com/seotutorial
Start Your Blog On Your Website, this is how the internet will find you! When people go on the search engine. they are looking for something. Even if you think it's not important, it is. People can find your website and learn more about you and your website in the long run. I highly recommend hiring a freelancer or content writer for your website so they can properly write and optimize it for the search engines. You can hire a content writer here: http://www.darrelwilson.com/iwriterhttp://www.darrelwilson.com/freelancer
Social Media is essential for website success! Facebook, Youtube, and other platforms help you along the way to drive more traffic and promote your website. Facebook ads can be costly, so try and earn likes and engagement by interacting or by inviting them by other platforms. Remember, make weekly posts and be consistent with your campaigns, this will help you in the long run! I do have a full facebook tutorial that you can watch and learn for free here: https://www.youtube.com/watch?v=dojwz… I also have a youtube advertising tutorial here: https://www.youtube.com/watch?v=Bkze7…
Forums And Facebook Groups is another great way to get traffic. Remember, be helpful in these forums and be active. People look up to people that can help them with website issues or problems. I know you can do it!
Bonus – You can use the already established website to gain ranking on your own. Also here is a list of websites that allow guest blogging: https://www.shoutmeloud.com/list-of-5…
Influencer Marketing and Affiliate marketing are also really good and helpful tools. You can use other people to help bring you traffic in exchange for money and commissions.
You can hire an influencer here: http://www.darrelwilson.com/shoutcart You can also use http://www.similiarweb.com to verify their traffic and make sure the influencers have good traffic. To Get Affiliate To Promote Your Products, You can sign up here to offer commissions to affiliates to help get you more traffic as well, Here are some websites that you can sign up for. www.cj.com www.shareasale.com www.rakuten.com
The Google Display Network is a great resource to help you get more visitors across the Internet. You don't need any experience because in this video I show you how to can start your own display network campaign!
You can register for AdWords here:https://adwords.google.com/home If you want to see the CPC by country, you can visit this blog and learn more about it: http://www.wordstream.com/blog/ws/201… I hope this tutorial was helpful and that you can start your marketing campaign for your website. I recommend SEO, Blogging, Social Practices, and the Google display network the most.
Good luck! For more tutorials like this or to learn how to make a WordPress website, feel free to visit my website at http://www.darrelwilson.com
Websites and Micro-sites of Keywebco
Some are Apps and some Platforms too.
Sliders:
I said I would mention these at the end because they should be the last elements added to your website. Think of them as direct ads to who is already on your site.