Coffee is one of the world's most popular beverages.
Everyone recognizes a roasted coffee bean, but you might not recognize an actual coffee plant.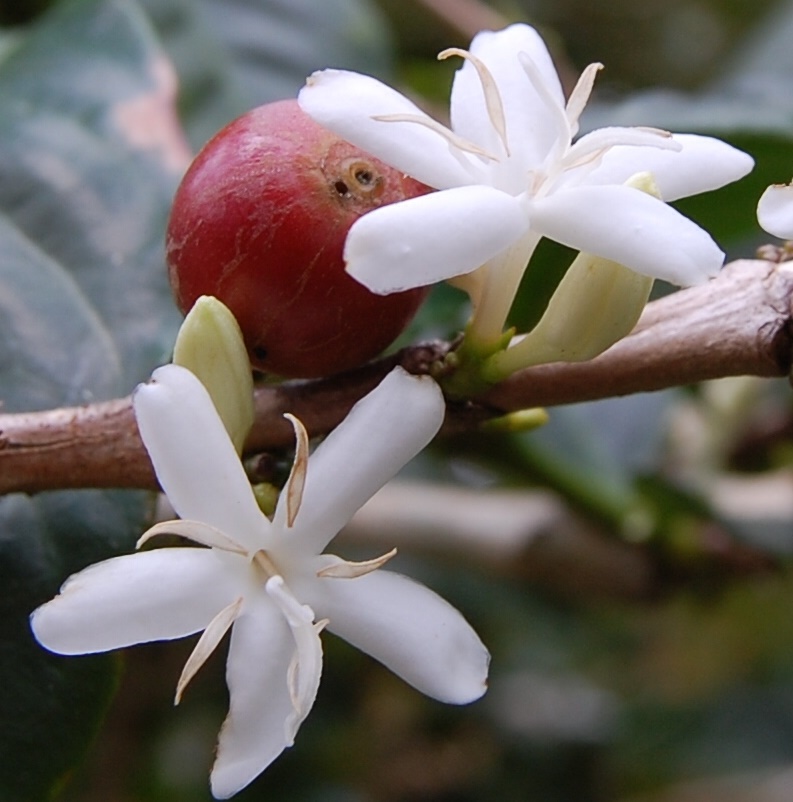 Coffee trees are pruned short to conserve their energy and aid in harvesting but can grow to more than 30 feet (9 meters) high. Each tree is covered with green, waxy leaves growing opposite each other in pairs. Coffee cherries grow along the branches. Because it grows in a continuous cycle, it's not unusual to see flowers, green fruit, and ripe fruit simultaneously on a single tree.
It takes nearly a year for a cherry to mature after first flowering, and about 5 years of growth to reach full fruit production. While coffee plants can live up to 100 years, they are generally the most productive between the ages of 7 and 20. Proper care can maintain and even increase their output over the years, depending on the variety. The average coffee tree produces 10 pounds of coffee cherry per year or 2 pounds of green beans.
All commercially grown coffee is from a region of the world called the Coffee Belt. The trees grow best in rich soil, with mild temperatures, frequent rain, and shaded sun.
Thanks to its high levels of antioxidants and beneficial nutrients, it also seems to be quite healthy.
Studies show that coffee drinkers have a much lower risk of several serious diseases.
Caffeine blocks an inhibitory neurotransmitter in your brain, which causes a stimulant effect. This improves energy levels, mood and various aspects of brain function.
Several studies show that caffeine can increase fat burning and boost your metabolic rate.
Caffeine can increase adrenaline levels and release fatty acids from your fat tissues. It also leads to significant improvements in physical performance.
"Coffee – the favorite drink of the civilized world." – Thomas Jefferson
Coffee contains several important nutrients, including riboflavin, pantothenic acid, manganese, potassium, magnesium, and niacin.
Several observational studies show that coffee drinkers have a much lower risk of type 2 diabetes, a serious condition that affects millions of people worldwide.
Coffee drinkers have a much lower risk of getting Alzheimer's disease, which is a leading cause of dementia worldwide.
Coffee drinkers have up to a 60% lower risk of getting Parkinson's disease, the second most common neurodegenerative disorder.
Your beans' greatest enemies are air, moisture, heat, and light.
To preserve your beans' fresh roasted flavor as long as possible, store them in an opaque, air-tight container at room temperature. Coffee beans can be beautiful, but avoid clear canisters which will allow light to compromise the taste of your coffee.
Storing Coffee
Keep your beans in a dark and cool location. A cabinet near the oven is often too warm, and so is a spot on the kitchen counter that gets strong afternoon sun.
Coffee's retail packaging is generally not ideal for long-term storage. If possible, invest in storage canisters with an airtight seal.
Coffee drinkers have a much lower risk of cirrhosis, which can be caused by several diseases that affect the liver.
Coffee appears to lower the risk of developing depression and may dramatically reduce suicide risk.
Liver and colorectal cancer are the third and fourth leading causes of cancer death worldwide. Coffee drinkers have a lower risk of both.
According to legend coffee was discovered by an Ethiopian goatherd called Kaldi. He noticed that goats who ate certain beans became very lively. Coffee was drunk in Yemen by the 15th century. By the 16th century, coffee had spread to Persia (Iran) and Turkey.
Coffee may cause mild increases in blood pressure, which usually diminish over time. Coffee drinkers do not have an increased risk of heart disease and have a slightly lower risk of stroke.
Several studies show that coffee drinkers live longer and have a lower risk of premature death.
Coffee is rich in powerful antioxidants, and many people get more antioxidants from coffee than from fruits and veggies combined.
Starbucks Coffee is my fast go to place if I just must have coffee on the go.
Choose your espresso, love your drink
Enjoy all your favorites with Starbucks from smooth Blonde espresso to bold signature espresso.
Variety, Brewed Daily
Swing by and warm up while enjoying any of our three roasts brewed daily: extra smooth and subtly sweet Veranda Blend®; crowd-favorite, the medium-roasted Roast; or one of our rich, bold dark roasts featured that day.
Great coffee starts with great beans. The quality and flavor of your coffee is not only determined by your favorite brewing process, but also by the type of coffee you select. There can be a world of difference between roasts, so check out our roasting types guide.
Some of the flavor factors include:
The texture of your

grind
While there are a lot of choices, remember that there's no right or wrong — for instance, you can choose a dark, flavorful espresso roast coffee and still have it ground to be brewed in a drip system. Have fun trying and enjoying different combinations.
Freshness
Purchase coffee as soon as possible after it's roasted. Fresh-roasted coffee is essential to a quality cup, so buy your coffee in small amounts (ideally every one to two weeks). Check out our helpful tips on how to store coffee to keep it as fresh and flavorful as possible.
And please, never reuse your coffee grounds to make coffee. Once brewed, the desirable coffee flavors have been extracted and only the bitter ones are left. Instead, check out these six ways to recycle your old grounds.
The Grind
If you buy whole bean coffee, always grind your beans as close to the brew time as possible for maximum freshness. A burr or mill grinder is best because the coffee is ground to a consistent size.
A blade grinder is less preferable because some coffee will be ground more finely than the rest. If you normally grind your coffee at home with a blade grinder, try having it ground at the store with a burr grinder – you'll be surprised at the difference! (Whichever option you use, always follow manufacturers' recommendations when using your grinder, and be mindful of any necessary safety considerations.)
The size of the grind is hugely important to the taste of your coffee. If your coffee tastes bitter, it may be over-extracted, or ground too fine. On the other hand, if your coffee tastes flat, it may be under-extracted, meaning your grind is too coarse.
(Check out this simple infographic to help you determine the the best texture for your preferred brewing method.)
If you're having the coffee ground to order, tell the professionals where you purchase your coffee exactly how you will be brewing it. Will you be using a French Press? A flat or cone drip filter? A gold mesh filter? They will grind it specifically for your preparation method.
The Water
The water you use is very important to the quality of your coffee. Use filtered or bottled water if your tap water is not good or has a strong odor or taste, such as chlorine.
If you're using tap water, let it run a few seconds before filling your coffee pot, and be sure to use cold water. Avoid distilled or softened water.
Coffee-to-Water Ratio
A general guideline is called the "Golden Ratio" – one to two tablespoons of ground coffee for every six ounces of water. This can be adjusted to suit individual taste preferences.
Check the cup lines or indicators on your specific brewer to see how they actually measure. And remember that some water is lost to evaporation in certain brewing methods.
Water Temperature
Safety first! Of course, any time you are working with heat and hot beverages, take all necessary precautions for everyone from those preparing coffee, to those being served, and drinking coffee.
Your brewer should maintain a water temperature between 195 to 205 degrees Fahrenheit for optimal extraction. Colder water will result in flat, under-extracted coffee, while water that is too hot will also cause a loss of quality in the taste of the coffee. (However, cold brew does not need any heat.)
If you are brewing the coffee manually, let the water come to a full boil, but do not over boil. Turn off the heat source and allow the water to rest a minute before pouring it over the grounds.
Coffee usually cools rapidly after being served, depending upon the container from which it is being served. And, many coffee drinkers may add cream or milk which also has a cooling effect. Ultimately, the temperature at which any individual coffee drinker will prefer their coffee is a personal preference, like so many other things that make coffee special. These are some of the reasons why it is best to serve coffee right after brewing, when it is fresh and hot – typically at a temperature of 180-185F, according to research.
Of course, with respect to drinking coffee, vs. serving, you should always allow your coffee – or any hot beverage – to reach a comfortable temperature before drinking. One study has shown that coffee drinkers typically drink their coffee at 140 degrees Fahrenheit or below.
And again, those preparing and serving coffee need to be mindful of safety, which could include factors such as the location where coffee is being served, and the coffee drinkers themselves, which can only be assessed by those preparing and serving coffee.
Brewing Time
The amount of time that the water is in contact with the coffee grounds is another important flavor factor.
In a drip system, the contact time should be approximately 5 minutes. If you are making your coffee using a French Press, the contact time should be 2-4 minutes. Espresso has an especially brief brew time — the coffee is in contact with the water for only 20-30 seconds. Cold brew, on the other hand, should steep overnight (about 12 hours).
If you're not happy with the taste of the final product, you're likely either:
Over-extracting – the brew time is too long
Under-extracting

– the brew time is too short
Experiment with the contact time until you get the right balance for your taste.
Coffee is a highly popular beverage around the globe that boasts a number of impressive health benefits.
Not only can your daily cup of joe help you feel more energized, burn fat and improve physical performance, it may also lower your risk of several conditions, such as type 2 diabetes, cancer and Alzheimer's and Parkinson's disease.
In fact, coffee may even boost longevity.
If you enjoy its taste and tolerate its caffeine content, don't hesitate to pour yourself a cup or more throughout the day.